The month of June brings both happy celebrations and painful farewells for television series. While on a summer vacation, some say goodbye to the audience early and make the finale, while others leave them in awe with unexpected occurrences. Meanwhile, joyful and colorful summer shows are beginning to appear on television…
The Yarg series is at the top, But Pnar Deniz is at the bottom of the social media rankings!
It's almost as if there's a moment of anticipation for television viewers. After a challenging season, the performers and crews are taking a break, allowing other shows to take their place. The new couples and names of the summer season will gradually replace the names stated on social media with their TV series.
We've arrived at the weeks when each season series will conclude with a final or season finale. The "Most Popular Actress" list, which was chosen by audience feedback during the week of May 24-30, displays a fascinating situation as the season draws to a conclusion…
Ebru Şahin takes the first place in this week's report card of the most popular actresses of the screen. The actress, who received great acclaim with her Destan (Epic) series, outstripped Su Burcu Yazgı Coşkun, who played in her closest rival, Kardeşlerim (My Brothers)…
Özge Yağız, who was admired for her TV series Baba (Father), is in the 3rd place, while Sıla Türkoğlu, who was talked about after her departure from the Emanet (Legacy) TV series and the disagreements with the producer, is also in the 4th place.
While Deniz Baysal, the beloved name of the Teşkilat (Organization), is in the 5th place, Öykü Karayel, the actress of the series Kaderimin Oyunu (The Game of My Destiny), which was decided to continue in the second season, even though the ratings are low, is in the 6th place.
Here are the most talked-about female actors on social media on May 24-30: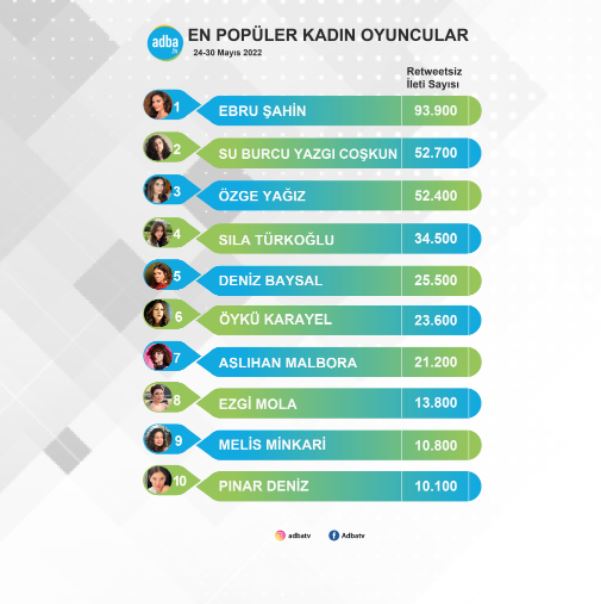 Pınar Deniz is on the list after Aslıhan Malbora, Ezgi Mola and Melis Minkari, respectively. Pınar Deniz receives great acclaim as Kanal D's season-marking series, Yargı's (Judgment) Ceylin. The series made the season finale last week and was talked about a lot.
Pınar Deniz is going through another big leap in her career with this serial. She won many awards throughout the season.
However, it is noteworthy that it is in the 10th place on the list of the most talked about. Pınar Deniz is in the bottom row, while the series is talked about at the top. Moreover, despite the fact that the series came to the fore with the much talked about season finale on Sunday, May 29, Pınar Deniz's social media coverage is not overlooked.